by Robert Kelly

A trophy carries dust. Memories last forever.
Preparation: Barry, Aideen, Laura and myself had been discussing strategy all week. We had gone into great dept over organisation, timing and tackling the transition. Others may take the credit but it had been my idea and if it went wrong it would spell disaster. Luckily the plan worked – the taxi arrived on time, we made it to each changeover and now we were on our way to the airport. All that preparatory work ringing taxi companies, organising times paid off. As Peter might say "Achtung Failing to prepare pixiehead, preparing to fail Ja".
As soon as the four of us were in the taxi you could notice the tension was rising. I had commented on Aideen's new hairdo but of course forgot Laura. Obviously she looked fantastic but I didn't want to say anything and then be excluding Barry. Barry did his best to distract everyone and we were all thankful that he insisted on showing the driver, who in fairness only had 35 years driving experience, the best way to the airport.
We made it in good time and the Head of the DAA bowed and welcomed Mr. O'Connor and his 3 assistants through the VIP section whereupon we met the rest of the crew. Everyone was excited and nervous and judging by the lack of other Irish entries we were effectively representing Ireland on the International stage (certainly that's how I was viewing it).
The flight was uneventful and we made good time. It would have been quicker if they had allowed Cahir in the cockpit but Anna had blocked the door with the shopping trolley.
After a bit of faffing around in Nice Airport (my fault) we got the 2 rental vans and were on our way. I think our first mistake was buying the full insurance cover and making Mr O'Higgins aware of that fact. Unfortunately this seemed to give him licence (does he have one?) to Grand Theft Auto it all the way to the hotel. I am still reflecting on whether all the passengers in our van were at a disadvantage as after the ride we had nothing left to give for the race itself.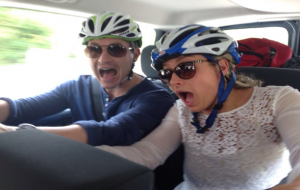 I think Senna turned around and took this picture while driving down the motorway. From memory we were passing a Porche jeep at the time.
Sooner than we would have liked we reached the hotel. Ben and I shared a coz, snug, tight, hot little room where we got to know each other very well.

Our bikes are under the bed. Ben pretended to play Sudoku and kept the light on all night, just in case. Think of the pillow scene with John Candy and Steve Martin in "Planes trains and bicycles". Nuff said.
Tapering
On Saturday, Eddie "the eagle" O'Reilly, Ronan "the goat" Allen and myself made the 90 minute trip to the famous Mont Ventoux Tour De France climb for an epic couple of hours bike climbing. This is the Col where famously Tom Simpson died while competing in the Tour de France. It is 22k long with average gradient of 7% (think of Calary Hill, up near the Sugar Loaf, only 6 times longer).
We started off tentatively enough but once we had cleared the pipes (cycling term) and found our rhythm we horsed up the mountain EPO style. Fantastic day and views, bought the T Shirts which we can proudly now wear. I also got some nice socks. We rushed back and hooked up to meet the rest of them and discovered that they were all shattered. Their pre-race preparation wasn't ideal as for some reason they decided to starve themselves the day before a half IM. Luckily I got there in time to share my home made flapjacks which I had prepared for the race. They ate them all!!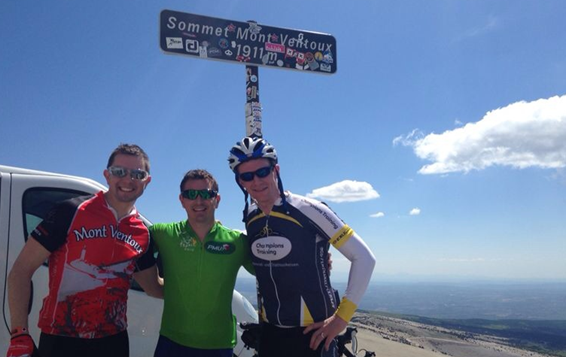 Strawberries and cream day.
Race Day
Everything was set. We were all in the van (nearly all). It was 6am but some of the lady's were missing. People were getting anxious. In these situations individuals do funny things. Some of us pull at our eyebrows, some chatter incessantly but until last Sunday I had never seen anyone start to cook pasta. The little experience I have of Tri-athletes is that they are mad for the gear, whether it is compression tights or big watches. I have never started a race with another person who had gels in one hand and a colander in the other. Mind you his time was great so I shouldn't slag.
Anyway the girls eventually arrived and they looked spectacular. Hair and make-up was perfect. We were good to go. As we came near the starting point Lizzie gave us all a bit of a fright when she noticed that the road leading to the lake was covered in ice (?). Once we assured her that it was a dirt road things relaxed again. The nerves were obviously getting the better of her.
There was a good buzz prior to the race and everybody started on their preparation. Brendan was passing around these white tablets in brown bags after checking that there was no drug testing after the race. Most of T3 were buzzing around me as I had managed to bring a toilet roll with me so I was very popular. Unfortunately I brought the toilet roll with me on the swim so this accounted for a loss of 7 minutes (which I believe makes me unofficially faster than Anna).
The first waves started which involved the Pro's and then followed by the girls. Jenny had a great swim and managed to catch the pro's in front of her. I did the exact opposite. I went off in my wave but as soon as I got into the water my body decided to wait for the wave behind me. It took me 10 minutes before I got into my stride (which is slow) but eventually I managed to get things working and started to make progress. You couldn't see a thing in the lake but it was warm and the sun was starting to come out so it was a pleasant enough experience. My time was 47 minutes which is possibly the slowest of any of the T3ers but I was happy enough. When I came into transition I met Mark Foran who was leaving for the bike. He had started in the wave behind me (10 minutes later) so he obviously had a great swim. He was going to have a great race. I tried to get after him on the bike but I didn't see him again until the run.
The sun was out now and the temperature was picking up. The route was very pretty and most of it was through the countryside and small villages. We got to ride through some lovely vineyards, hills and quiet country lanes. This was all very pleasant but wasn't doing my time any good. Normally my bike section would be strong but I was being passed quite easily for the first 30k so the swim must have taken a bit out of me. The heat was starting to pick up and I was concerned that I wasn't taking enough water and fuel on so I was stopping and refuelling a bit which possibly wasn't ideal but I got to chat to the locals who were impressed with my language skills;
"bonjour, j'mapelle Rober, j'habite Dooublan. J'ai un frère et une soeur" (that's all I could remember)
I had no idea of where I was distance wise but I guess it was around 50k in that I started to hear the French whispers of something serious that had occurred on the bike course. A number of cyclists who passed looked very emotional and talking grave language. Eventually I asked one of the French competitors what was wrong and he said he'd heard there was some tragedy out on the course. I asked him for more details and he said he had none only that it concerned an Irish participant. Holy moly, what was wrong. Hope Liam hasn't done a New York New York on it. We made it to the next village where the Mayor stopped us and starting handing out black armbands. I knew it was serious.
He explained that some Irish lunatic had got, not one, but TWO punctures out on the course and was running amok chasing after guys looking for spare tubes and trying to swop bikes. He was using a colander as a weapon. "Sacre bleu" everyone said in unison. The race marshal was at a loss at what to do as he couldn't find the word "colander" under "eligible race equipment".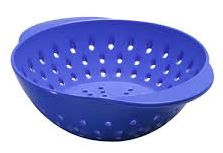 This is a reconstruction. The original one had "base2race" branded on it.
There was nothing to do but keep going so we all saddled up and headed on. (I had lost 15 minutes here easily so by rights I am unofficially now in the top 100).
The remainder of the cycle was fairly uneventful save for the fact that we had the couple of climbs to go before the finish. I passed Niamh and Paul (from Piranha) and handed them transfer papers and told them what a great club we are. Besides those two I didn't pass any other Irish including T3er's so I figured they must all be going well up the road.
The heat was fairly strong now but Liam had reassured me the previous night that the run course is "flat and it is completely shaded from the sun bar a short 200 metre spot". I was looking forward to a nice cool run. Au contraire. (O contrary).
I started the run and my legs felt good. However the heat was savage and the sun was bouncing off the path, buildings and my head. I had no hat unfortunately. The only shade appears to be a fountain on the course which I had to keep stopping at and stick my head into for some relief (I lost 20 mins here so unofficially I think I won the race).
There was great support in the village and from fellow T3ers who had finished already. Eddie and Ronan were giving great support from outside the bar as they tucked into Kronenburg 1667 – they seemed happy with how the day was going. John O'Leary was going very strong as was Liam and Mark ahead of me – they all had a great race. Kevin looked shagged in the sun and I figured he was in trouble (he completed in sub 5 hours so what do I know). Lucy, Aideen and Anna were motoring nicely and looked fine. Kieran was ahead of me on the run and his wife Una gave great support along with the Anna Rowan fan club.
I spotted Cahir with his colander go through the finish tape and he was easily an hour ahead of me so the pasta obviously worked. I could hear the race announcer (or was it Cahir) over the microphone screaming that if he hadn't punctured he would have won the race and he'd be heading for Kona.
I met Barry on my last lap (his first), so he had a bit of work to do but you knew he'd make it and when he arrived in there was a great reception for him and a quick interview with EuroSport. Chapeau to Barry.
Everyone I think achieved what they had set out to do. The biggest congratulations have to go to those who had never completed the distance before – it was a great achievement.
AfterParty
Fantastic dinner organised by Barry followed by a dance off between the boys and girls. The girls took an early lead with some handstands by Lizzie and splits by Lucy (both highlights of the trip) however they didn't count on some Aengus impersonations for Thunderstuck (with toilet roll) so I think the lads won out in the end. I definitely won that one.
Thank You
A big thank you to all who contributed to the trip, whether it was your idea, you organised logistics, you drove or offered support. I think we will all remember it for the right reasons. It is great to have different personalities getting on so well rounded off by a great race.