by Evan Lonergan.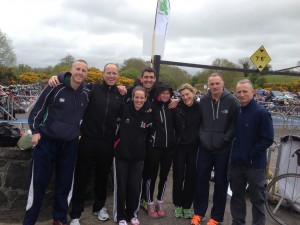 On Saturday last a large T3 contingent braved the elements and headed to Collinstown in Westmeath to take part in the Tri an Mhi middle distance event. The T3ers included Jenny, Marie-Triona, Gena, Cahir, Declan, Mick, Donal, Ian and Evan. The weather was not kind to us and after numerous trips out to the middle of the lake the race organisers decided to reduce the swim distance from 1.9km to approx. 750 metres.
This decision disappointed the T3 contingent as they had prepared for the cold water with numerous open water swims in recent weeks ! Given that almost 300 competitors started the 750 meter swim together meant that it was going to be extremely rough. Also, we had to turn around two buoys which added to the "fun" a bit more. The water was very cold so everybody literally basted themselves in Vaseline for protection, which amazingly did the trick. Everybody swam solidly and exited in very respectable times, Jenny led with the way with a super 12.43.
T1 definitely represents one of the slowest transitions in the history of triathlon as everybody literally layered up for the 93km bike. At this stage the weather was dry, but cold and windy, however, everybody was well aware that the heavens were due to open. Everybody got away from T1 in good shape but unfortunately Gena punctured after a few metres so this slowed her down. The cycle route consisted of 2 laps of 46.5 km each. There were a fair few climbs so it wasn't long before the body temperatures recovered. The first lap was nice with only a gentle breeze at times but the second was a different story. As expected it rained heavily for the second lap so conditions were very difficult. Understandably people's splits for the second lap were down as numb hands and feet coupled with slippy roads took its toll. Mick was very unlucky to break a chain as he was going very strong, but Marie Triona put in a blistering cycle of 2.50hrs to post the fastest women's split. This was a remarkable cycle considering the conditions.
Everybody was happy to roll back into T2 to get into some dry clothes, however, given that we weren't allowed to leave any bags or boxes in transition meant that nearly everything was soaking. Not a great start to the run and I know I questioned my sanity as I headed out on the run. Meeting Jenny and Marie –Triona donning hats and coats made it worse, they were not taking part in the run as were both nursing injuries and didn't want to jeopardise future events.
The 21km run was actually not too bad. The weather improved and as the course was made up of a couple of loops you were always in good company. There were a number of hills so it was a case of trying to keep it steady (my excuse anyway!). Having a number of club members doing the race made a big difference at this stage as they were a great source of encouragement. Also, Peter, Brendan and Gary's support at this stage was very welcome so a big thanks to them. The post race sandwich was definitely one of the most enjoyable I've tasted!
All in all it was a tough day but was great to get it in the bag so early in the season and will hopefully stand to everybody. It's a very well run event and hopefully next year the weather will be kinder to the organisers.
By Evan Lonergan.