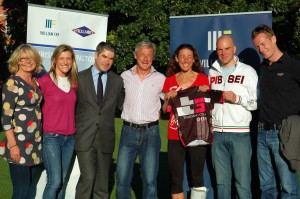 T3 Triathlon Club, in conjunction with Acorn Ireland, were proud to have organised for Chrissie Wellington, 4 times World Ironman Champion, to come to Dublin and give a talk on Tuesday night last, 14 August. Over 400 people turned up, with all proceeds going to Crumlin Children's hospital and the Jane Tomlinson Appeal. Well done to all the T3ers who helped out with various tasks – thanks to all. Thanks also to Ivor and William Fry Solicitors for sponsoring the event.
Our photograph above shows (L-R) Aideen, Jenny, Ivor, John, Chrissie, Craig and Eddie before the event.
Pictured below are T3ers who attended on the night, with Chrissie and also Byran Keane (centre back) who performed MC duties.