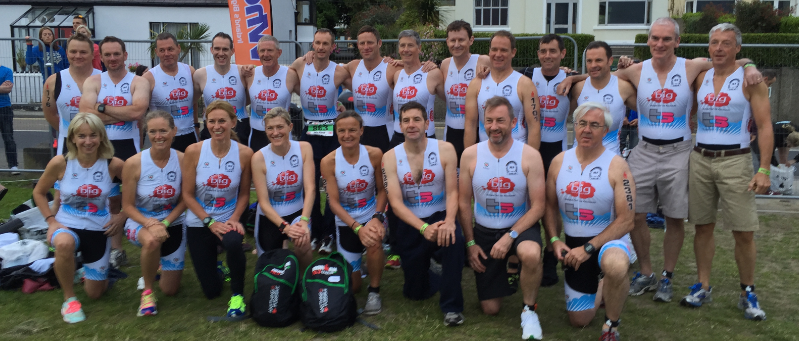 On what was arguably one of the greatest ever days in the history of triathlon in Ireland, certainly in Dublin, 27 athletes from T3 made it to the start line of Ironman 70.3 in Dublin yesterday 9 August 2015 (not pictured above Brendan Byron, MT Keane, Dave Hanlon, Jim Fitzharris and Ed Crotty).
Akin to the manner in which the best steeplechasers all emerge from training and lesser races to peak for the Cheltenham Gold Cup, the pure-bred athletes all turned in great times: the first T3er home was Brendan Byron in a stunning 4:55, followed by Kevin Gilmore in 5:01 and MT Keane in 5:02 (and first in her age group).  Jenny O'Connell was 4th T3er home and 3rd in her age group.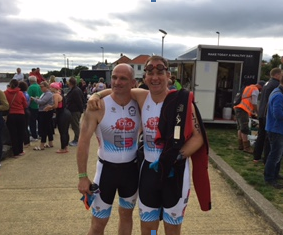 With such a large turnout, there was plenty of scope for intra-club rivalries, including the latest instalment of Gary / Chuck, with the former prevailing on this occasion.
Commiserations to Ben Hoey who came a cropper on the bike somewhere around Maynooth, and Fiona, who came a cropper of the timing officials after completing her swim, both lived to fight another day!
Thanks due to lots of T3ers who contributed in various ways to make the day extra special: to Peter Kern for all the training, Jenny and also Marc from Big Red Cloud for the tri suit sponsorship, Craig Molloy for organising manufacture of same, Dave Hanlon, Mark Foran and others for the various training weekends and practice cycles on the bike route, Oisin for the large part he played last year in bringing the race to Dublin, and to John and Ciara O'Leary for the classy post-race BBQ.
This awesome arial video of the first swim start can be viewed here, and is definitely worth a viewing.
Oisin's 70.3 Race Report which captures the essence of the event in some style can be read here.