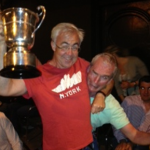 Like Ed C. I too wondered what the big issue was with HOTW. As my knees have a fear of hills, I had neglected the kindly intones of those in the club that emanate from Limerick and Clare on this subject. However thanks to Laura having an extra bed I decided why not – a really good reason to do one of the most difficult races in Ireland at Olympic level. Next find someone to sleep with and we're off.
The Start
I was amazed at how behaviour in transition was very different to previous experiences – not mine but my fellow club members. As I looked out at the waves and swells I started to feel a little uneasy and that last buoy (or Booee for some) looked a bit too far away and close to some rocks. However I felt more uneasy as I studied the faces of my club mates. Evan looked like all his worst nightmares had come home to roost, Ed O. was going in and out of transition like it was a revolving door, John O spent an hour changing gear like he was shopping for a new dress, Ed C was walking up and down and not his usual self. Then Carmel announces to me that she had done it before but didn't like finishing; even with new boy in tow. Peter K swallowed far too many gels and looked too intense for my liking. Dave M was muttering the usual about his age, golf and Lahinch …..
Jim F pops into transition to give encouragement, let us know he's in a relay and he'd never do that swim ever again – thanks JIM!
Additional starring roles Dave H looking cool and relaxed with PB on mind; Cahir thinking who can possibly beat me – I'm on fire. Kim and Mark far too relaxed and excited at the same time.
Thankfully I got distracted by the Byrons who were celebrating their first anniversary with a new wetsuit and all seemed well. We had a group photo (at last I get into one) and we're off.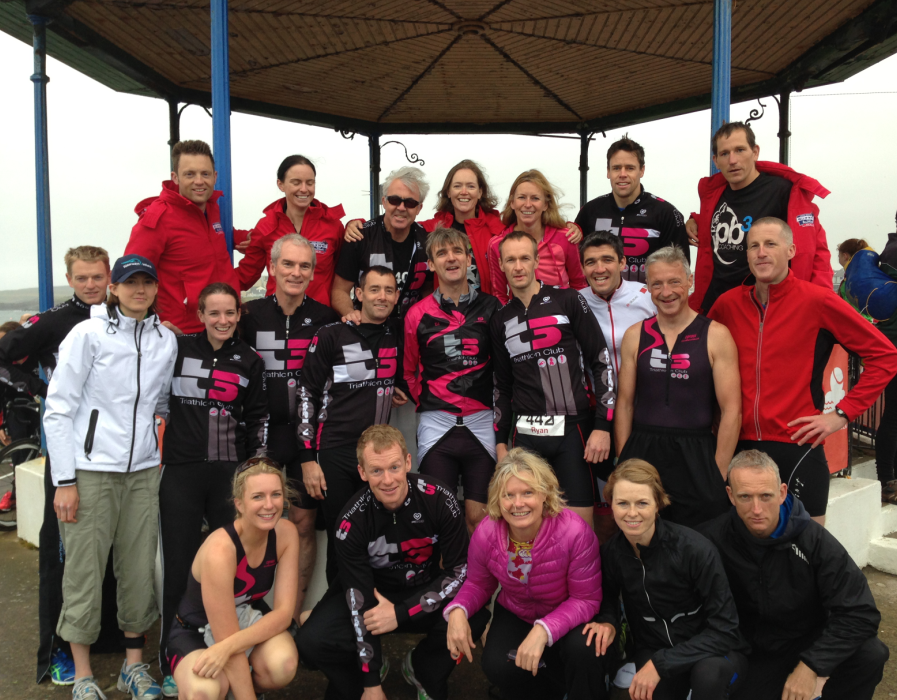 Do you think it's the bike or is she just damn good? I hear Ian whisper to Ryan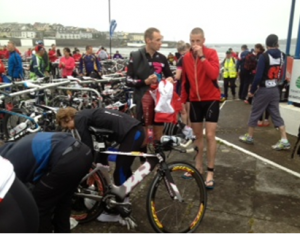 The Swim
Uneventful until Ryan decides to attempt conversation with me at last buoy (Booee). Fantastic going out as one crashed over the waves and free floated for a moment. Loved every minute of it but respect to those that swimming is not their No. 1 choice.
T1
The easiest in and out I've ever experienced – so simple and short except no breasts on view – where are the Mayo contenders when you need them?
The Ride
Well here we go again; I wait to see who comes first. Kim flies by at incredible speed and I feel my years. Then it's the usual suspects passing me by but at least most of them have the decency to leave me alone. Trying to avoid the pelotons I plough on. But no, next up is Gena, who stops to express some frustration at the drafting – can't she see I'm struggling but again, it's all part of being a club to listen to each other's issues regardless. Finishing her vent she drops a gear and she's gone; feelings of inadequacy return.
Next up; Laura appears right beside me while I'm all alone and in the groove but suddenly there are 10 men surrounding me – it's like a female Lynx ad with Laura and her posse. We then have an excellent cat and mouse chase (not drafting Gena!) which really helps pass a tough headwind.
Kevin has pulled a few muscles on the right side.
T2
Again hardly notice – what a great venue, still no breasts!
The Run
This is the bit I've been dreading. Carmel said "just enjoy the great views" (when did you start with Bord Failte?) At least I was going to catch sight of some real T3 athletes as they tore down the hill. Great to see Jenny and Elizabeth shouting from the side-lines – not a Munster accent in sight.
First PK looking like a young whippet and shouting encouragement to me (at least it sounded like encouragement but I get confused when he shouts at me). Then Mark looking strong – where's Kim; could I be losing consciousness? Next up those breasts I'd been thinking about since T1 – but no it's only Dave H with his top down. Closely followed by Cahir on some form of drug driving himself to a PB 5k (Note to Cahir: it doesn't count on a 30% downhill gradient). Then, looking all the pro, Ian like a young gazelle with a big grin on his face shouting encouragement to everyone. Then shock, horror as someone doing a duck impression (his words) looking like he's got something stuck up David Drum's favourite place. Evan – are you alive? Gena gives encouragement to him – I quote – "Jesus you looked ******, you should stop you'll damage yourself". I gain great encouragement as I don't feel like a duck and Gena is gone.
I'm at 6k coming down now and yes Dave M is only at 4k going up – at last after 6 years of being the bridesmaid I'm ahead and as you can see from photo taken I finally take my rightful place.
Finally it's on to the finish and wow, what a feeling as I collapse to the ground. Immediate attention is given by someone who has forgotten how defibulator is pronounced (which is a bit of a problem in a crisis) but Laura explains I'm OK just very old.
Over to the grass where all the beauties and ducks are stretched out enjoying the sunshine with the exception of Ed O who is missing in action – reports are he was suffering from a bad boink (listen carefully Cahir) and had headed to the hills.
Then the long wait for the hero of the day. The Lady who had entered accidentally – the dangers of joking by email to the quickest transferor of entries in the World – Dr R. Well it was worth the wait for Anna completing her first Olympic and looking very fit as she steamed towards the finish – what an achievement – to do HOTW as your first with a smile on your face!
The Night
Then it's back to room to prepare for the night (but first Laura takes us on a warm down cycle – just 20k to get the lactic asset out of legs- bit**).
Meet in the pub at 5ish and the Bulmers is flowing and god I mean flowing – I thought I was back in the rugby world. Evan is facing up to his demons, Ian is delirious and Dave H and I scan the talent (athletic sort) which is plentiful. Cahir contemplates an alcoholic beverage but it's a big step forward as he thinks about seconds lost. Jenny introduces me to organiser (on crutches – these Munster women are tough). Everyone in great form.
Jenny organises dinner which is perfectly choreographed right next to the pub – thanks Jenny you're a star! Mr K wants to hit the Tri disco (must have had good experience last year/Bulmers kicking in (delete as appropriate)) before we get to desserts. The next section is the evening in pictures:
Griff sends in under-cover agent to find out MT's secrets to success.