By Ed Crotty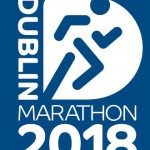 06:30 Sunday morning, Race Day. I get up before the alarm or backup alarm (!) go off. I got a solid 4 hours sleep and then a few more fitful hours after that, not bad considering that I lost almost the whole night's sleep on Friday night (since I learned that the night before the night before is the most important, that's become the night I can't sleep in race week – go figure !). But I know from experience that won't affect how I will race today so I'm not bothered.
08:00 The taxi driver drops me at Leeson Street bridge as he says it closest he can get to the start line. Which it is, but what he doesn't know is that you aren't allowed walk down Fitzwilliam Square, instead you are routed down the canal, along Mount Street and about 25 minutes later get to the bag drop. Tip#1 for future Dublin marathon runners: Don't get a taxi to Leeson Street Bridge !
I meet my friend / club mate / sometimes rival Liam Boggan at the bag drop as we had arranged. He looks fit and well. It was partly Liam's 3:45 in last year's marathon that inspired me to finally attempt the race this year. We talk about race tactics for a while. I try (unsuccessfully) to figure out his real race plan while telling him mine, which involves finishing in the low 3:30s. We drop our bags and walk round to the wave 2 race start. We have about half an hour to kill. We are both nervous but looking forward to it also. We meet the lead 3:30 pacer (there are three of them), a gas character from Howth called Mark. I learn later he has completed over 100 marathons.
09:15 We're off ! There's a brilliant atmosphere at the start, loads of noise and cheering and so many athletes ! I've practised starting at my planned 5 min / km pace but this feels a lot faster and my garmin tells me it is. Anyway my plan is to stick to Mark for the first half of the race. Up to Thomas Street, across the Liffey and into trendy Stoneybatter. Then we are into the Phonenix Park.
10 km: Before I know it we are at the end of Chesterfield Avenue and out the Castleknock gate, bang on 50 minutes. That was the easiest 10km I have ever raced ! and it flew by. My nutrition plan is to eat every 10km so I open my food pouch and have the planned half banana, half a bar and a gel. Tip#2: Bring all your own food, you'll only be able to get water out on the course.
We run through Castleknock. I see Liam up ahead and I'm a bit ahead of the pacers so I run up to him. I know Liam's from Castleknock, he tells me he's just seen his Dad out supporting. We're both feeling great so we chat as we try to stick to the 5 min pace. It occurs to me that the Ibiza crew may be tracking us and realise we are running together, so I share this thought with Liam. I imagine them perhaps relaxing in a hotel lobby, imagining us out on the course. Which is a bit weird. It's like pressure being applied remotely.
Through Chapilizod. The crowds are much louder than Castleknock, great support. Then we re-enter the Park (a surprise to me), along the very familiar bike route of the Dublin City Tri and countless Wednesday night Duathlons from summers gone by. We are a bit ahead of the pacers, Liam advises that we conserve our energy along this stretch in preparation for a climb later. We exit the park a second time and head along Sarsfield Road towards Inchicore.
20 km: At the corner of the South Circular Road there are more huge crowds, the noise they are making is unbelievable. There is a slight downhill and some congestion on the course, and I decide in that instant that I'm feeling strong and I'm going to move up a gear to put some distance between me and the 3:30 pacers, get some time in the bank for later. Up through Crumlin the crowds are really tight into the course, like the mountaintop stretches of the Tour De France where the spectators are literally touching distance from the cyclists. I realise that there is a long drag that I hadn't been expecting. Tip#3: wait until you get to Crumlin hospital to kick on ! Anyway I'm committed now, so I do my best to power up the hill. I think of Peter Kern years ago coaching us to use our elbows when running up hills (verk harder !).
24 km: I get to Walkinstown Roundabout. I see the Spar shop and think of Michael O'Leary. I've run this section of the course (from here to Fosters Ave) during my Sunday training runs, and this is amazingly reassuring. Tip#4: Try to run some or all of the second half of the course during training, it really gives you confidence on race day. I'm still running around 4:50 min pace since I kicked on, but I'm starting to doubt myself. I realise suddenly how solitary Marathon running is, much more so than triathlon, and what people mean by the mental challenge element. Even though I have run a few 32kms at sub 5 min pace I'm unsure am I doing the right thing, can I hold this pace ? For some reason I think of an interview with Paul O'Connell from years ago where he describes the need for him and Munster to be constantly improving (sidebar: they didn't !), otherwise they will go backwards, and this seems relevant somehow. I press on past Bushy Park and the long stretch into Terenure. I decide to take my next feed a few km early, more banana, bar, gel. My mouth is dry now so it takes me a while to swallow it. Tip#5: there are, at a guess, 10 water stations on the course, take water on at every one of them.
31 km Right turn at end of Orwell Park down towards Milltown. I hear my name shouted and look back, it's Laura and Sarah. I give them a big thumbs up (thanks girls !). Tip#6: if supporting a runner, shout their name very loudly, there's almost no chance of us picking you out of the crowd otherwise. Coming into Milltown village there are huge crowds at the bottom of the hill. I still feel OK, no sign of the wall yet. I look to the left to try and spot Paula Boggan and the young Boggan men, where Liam has told me they will be. Instead I see Gena Byron with a baby strapped to her front, and Brendan.
Up the hill, all grand, then right at Eglington. OK, here's where it gets hard. Mark the pacer has told us earlier in the race to "run the first 20 miles with your head and the last 6 with your heart". When I asked him does that mean suffer during the last 6? he says Yes, "suck it up". I check my watch and think for the first time that I can actually beat 3:30. I give myself a very quick lecture about digging very deep, leaving nothing out on the course, once in a lifetime. I hear / see Laura and Sarah again, mainly Laura's loud voice cheering my name.
Then, to my dismay, I hear Mark and the 3:30 pacing gang approaching from behind. Mark is shouting encouragement and instructions to the group. Which means I have given up all the ground I made up in the last 10k. I fear now for the first time I am going to get dropped. He pulls up beside me as we approach the split left for Roebuck hill. Suddenly the pace seems too fast. I stick with them as best I can but admit to myself it's only temporary: they will drop me. At the top of Roebuck the sun is behind the heads of the supporters and in our eyes but I hear my name and realise from the outline of her head and her voice that it's Anna. I drift right to high five her (thanks Anna). Then I realise John is beside her. I stumble when trying to high five John, what an idiot ! My brain is going a bit fuzzy now. Half way down Fosters Ave I hear someone talking to me to my right. It's my son Patrick running beside me for a few metres, he tells me I'm running at 4:55 pace, I thank him for coming out and then he's gone in a flash.
6 km to go at the bottom of Fosters Ave. I can't live with Mark's pace along the N11. I look at my garmin: he's running around 4:35 pace now. (Why?) I let him drift away and slow back to around 4:55. I keep looking at the distance and time on my garmin, calculating and recalculating will I get home under 3:30, even if I blow up now. And how slow can I run the last 4km and still finish in that time? The answer seems to be around 6 min pace. Surely I'll never slow that much (although it has happened before at end of 70.3s). For the last few km I can see Mark's pacing balloon about 500 m ahead, and covering the ground is just a grind, down to about 5:30 pace now. But it reminds me of watching the last 5 mins of a rugby match when your team is more than one score ahead and so can't lose. I see the finish line. Rather than elation I feel a sort of quiet satisfaction when I cross it, 3:28.
I want to wait for Liam but decide (wrongly) that he could be a good bit behind. (Turns out Liam was right behind me all the way to Milltown, had a recurrence of an injury and had to slow off the pace from there, finished in 3:32). I am aware that my family is waiting for me at the meeting point. The finishers all shuffle through the medal, tee shirt and bag collection zones like the famine victims from 1847 boarding ships to America, no one is even talking to each other. I see my wife Susan outside the barrier in the crowd: I slip out through the looking glass back to normal life, leaving Wonderland behind.